Retopoflow 3 - Retopology Toolkit For Blender
---
The comprehensive retopology toolkit for Blender
RetopoFlow is a full retopology mode for Blender that helps make quick work of creating custom, clean, mid or low poly meshes on top of high resolution sculpts.
The separate mode helps us not only get more information about the models than Blender can give by default (so our tools can work more effectively than anything else available today), but also to display the geometry in a more helpful manner. RetopoFlow mode's custom mesh rendering is currently the only way in Blender to see low poly geometry cleanly overlaid on a high poly mesh without overlap, distortion, or depth sorting issues.
No more messing with shrinkwrap, object scale, snapping, mesh visibility, displacement, or mirror settings. Just jump into RetopoFlow mode and get started! 
Built for artists, by artists 
Quality retopology is essential for efficient rigging, animation, texturing, and even rendering, but we also know from years of experience that it can often be a tedious chore. That's why we set out to do something that few thought was even possible - make retopology actually fun :D
RetopoFlow is my favorite tool for manual retopology among all the different software that I have tried. The developers are passionate and are always finding new ways to make the addon better. Thank you! ~  Daniel Bystedt, senior character artist
The tools in RetopoFlow mode are designed to be used by artists, and make the retopology process more like quick sketching and less like monotonous pointing and clicking. They make good topology practices like evenly spaced quads the default rather than the exception. Here's a quick intro to the power of each new tool you'll be getting:

Contours
With Contours, you can quickly place and adjust loops around any cylindrical form. Just hold Ctrl and left click drag, and a loop will wrap around the high poly surface. You can easily adjust how many segments it has by holding shift and scrolling. In the example above, notice how it wraps perfectly around the finger, even though there are other fingers directly behind it. Contours gets it right where other tools routinely fail because our advanced algorithm walks the loops around the mesh instead of using Blender's screen space snapping.
PolyStrips
Quickly sketch to define your most important loops with PolyStrips. Just hold Ctrl and left click to draw out a strip. It can be an extension of or connection between existing topology or a brand new strip depending on where you start and stop your stroke. You can even draw over multiple sections of existing geometry to connect them all. The size of the polygons is determined by the brush size, and you can easily add or remove segments by holding shift and scrolling after a loop is placed. 
The best part? You can also use PolyStrips to manipulate any selection of quads like a Bezier curve. Everything is automatically snapped to the surface so you can focus on what's important - the perfect placement of your key loops. 
Strokes
To quickly extend your main loops or define grids in larger areas, switch to the Strokes tool. Drawing out a single line will place a row of selected edges, and drawing another stroke roughly parallel to the first will connect the two with an even grid of interpolated quads. 
Or, you can draw out from a vertex to extend your selection to match the curve of the stroke. As always, every single vertex is snapped to the surface of the high poly mesh without you having to do the whole "move it and then immediately cancel so it actually snaps" rigmarole that comes with automatically placed geometry in regular Edit Mode. 
PolyPen
Sometimes you need to be more precise and deliberate, so PolyPen is built to give you maximum control over fine details. Select an edge, hold Ctrl, and click to extend the selection with triangles, quads, or both. PolyPen will automatically snap to other vertices and edges, and can even be used as a knife to make basic cuts. 
Knife
Quickly create more complex cuts into existing geometry using the Knife tool. 
Relax
Gently massage your geometry into evenly-spaced-quad perfection with the Relax tool. It behaves just like a sculpting brush, except that it keeps all vertices snapped to the high poly geometry and shifts them towards a clean layout. Controls for what mesh features it tries to correct are adjustable so that you can use it in a wide variety of situations.
Tweak
It's not particularly fun to select and then move vertices around one by one, so if you need to do some adjusting then reach for the Tweak tool. It pushes and pulls the geometry like a sculpt brush in a way that's fast, fluid, and intuitive.
Patches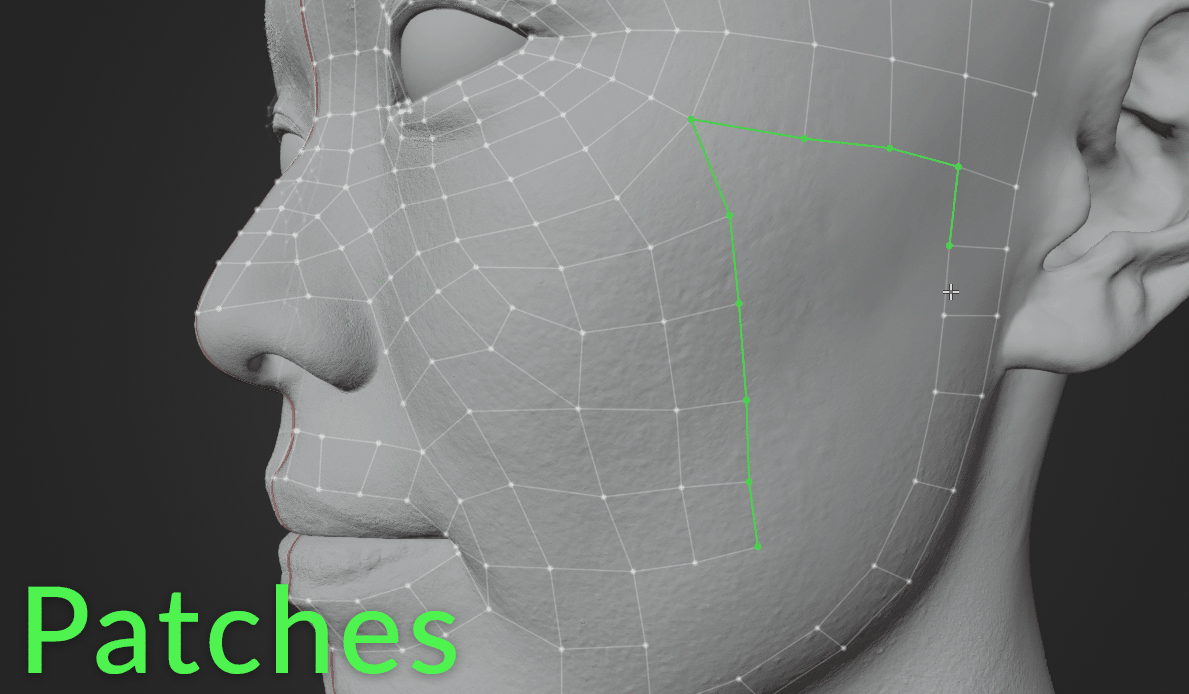 Large areas can be filled in all at once using the Patches too. Just select the boundary edge and click F to fill! You can shift select to toggle which vertices should be regarded as corners, so it's flexible enough to work for a lot more than basic rectangular shapes.  
Loops
Last but not lease, the Loops tool does exactly what it advertises - insert and slide loops. Unlike normally inserting a loop in Edit Mode though, each vertex will remain snapped correctly in place. 
See the tools in action
In-app tooltips and documentation to answer any question
Our tooltips will remind you of shortcuts as you navigate the interface, but just in case you need a more detailed rundown of how the tools work, there is a full documentation system built into RetopoFlow that you can reference without interrupting your work. 
Help is just a click away
If you run into any issues while using RetopoFlow, you can quickly report a bug using a button in the toolbar. It'll offer to take a screenshot and automatically paste console details into the report for you so that you can leave the technical work up to us. You can also always reach us at [email protected]. 
RetopoFlow is continually updated so that you should never experience an issue, but we also built a custom auto-save and backup feature in addition to Blender's so that you won't lose work even if, in the worst case scenario, you experience a crash. 
Created with love from the folks at CG Cookie 
I am an indie game developer (with some 10+ years of AAA experience). I use Blender for nearly all my 3D work (modelling, animation). I love sculpting, but retopology was always a daunting task. Sometimes I even preferred to create low poly models right away and just add some details in Substance Painter to save some time. RetopoFlow 2.0 changed that. I can create a full character outfit (model it with Marvelous Designer and Blender) and retopo it in just a few days. And the retopology process is a smooth and pleasant experience :). I actually started to like it a lot - it's a lot more like sculpting now. - Maciej Szcześnik, Indie game developer
This is a very important tool in my workflow, it turns the retopology process into a very pleasant and relaxing process. A big thanks to you guys, for making this awesome tool available! - Lucas Falcao 
RetopoFlow works in Blender 2.7, 2.8, 2.9, and 3.0
To use with Blender 3.0+, install the latest version of RetopoFlow
To use with Blender 2.8x or 2.9x, install RetopoFlow 3.2.4
For use with Blender 2.7 or before, install RetopoFlow 2.0.3
All three versions are included in your purchase. Please note that further development of RetopoFlow for past Blender versions is not planned. 
Upgrading from RetopoFlow 2? Here's what's new in RetopoFlow 3:
Support for Blender 2.8+
Left click select support for all tools
Added shortcut hints to Blender's Status Bar
Improved design for the interface, tooltips, icons, labels, and gizmos
Minimizable toolbar for distraction-free work
A pie menu (the '~' key) to quickly switch between tools
Several critical tool speedups
Refactored save and autosave features
Start up checks, such as for inverted normals, to make sure the project is ready for retopology
Added controls to the Relax tool so it can be adapted for tricky situations
Added an all-quad insert mode for the PolyPen tool
Added 'R' and 'S' hotkeys for rotating and scaling in any tool
Many small performance and stability improvements
We also have a few known limitations in version 3 that we'll be working on improving in future updates:
RetopoFlow can only handle polygon information as fast as Blender can provide it, so retopology with source sculpts above 1m polygons or target meshes above 20k polygons is not recommended. Please note that you can work with a decimated copy of a high poly mesh, and as long as the decimation doesn't visibly change the silhouette, the resulting retopologized mesh will be exactly identical.

 Since RetopoFlow is its own custom mode that needs to draw on top of Blender, the Blender interface will be covered over and unavailable. Not all Edit Mode tools and no other addons will be available while RF is active. 
Full changelog:
You can get updates on our progress on Twitter by following @RetopoFlow
Version 3.2.8
Fixed alert checkboxes not saving their state
Fixed bug with Strokes snapping distance

Version 3.2.7
Significantly improved Auto Save and Auto Save recovery
Added quick bail if unexpected exceptions occur to prevent work loss
A temporary mesh is now used when updating to prevent work loss
PolyPen now has option to adjust distance for inserting vertex into edge
Added option for snapping to geometry while using Strokes instead of using brush radius
Fixed bug when pressing MMB while moving geometry with LMB
Fixed issue where loose verts and edges are un-selectable
Fixed issue with crashing when using tablet
Improved auto adjustment of view clipping
Improved stability of Strokes and PolyPen
Added check for invalid characters in add-on folder name
Improved and debugged UI code
Removed RetopoFlow menu from all modes other than Object and Mesh Edit
Moved version number from the menu title to the menu header
Version 3.2.6
New vertex pinning options including pinning seams
New auto view clip adjustment setting which adjusts clip settings based on view position and distance to bbox of sources


Option to hide mouse cursor when moving geometry



Keymap editor improvements including keys for Done and Toggle UI, Blender passthrough, and many bug fixes
Fixed visualization bug where depth test wasn't always enabled and depth range might not be [0,1]

Fixed bug where modifier key states would be out of sync if pressed or unpressed while changing view
Added check for and button to select vertices that are on the "wrong" side of symmetry planes.
Fixed many bugs and cleaned up code

Version 3.2.5

Worked around a major crash in the new versions of Blender 3.0+
Overhauled the RetopoFlow menu 
Updated hotkey symbols to be OS specific 
Improved the keymap editor
Minor improvements for smaller screens
Started refactoring for the Blender 3.0+ API, which means the minimum supported version is now Blender 2.93
Several bug fixes and code cleanups 
Version 3.2.4
Fixed a visual bug that affected machines with Apple's M1 processor

Version 3.2.3
Worked around a bug with Apple M1 MacBook Pro / Intel graphics card where Blender would crash on load
Warn if a source or the target has a non-invertible transformation matrix
Minor change due to Blender 3.0 deprecating `blf.KERNING_DEFAULT`
Version 3.2.2
Fixed major updater bug



Fixed bug where Brush Falloff with `Ctrl+F` was not working
Version 3.2.1
New hotkeys (square brackets) for increasing and decreasing brush size
Fixed issue with normals after applying symmetry 
Fixed issue with scrolling the UI with a trackpad
Several minor bug fixes for Contours, PolyStrips, Loops, Strokes, Relax, and Tweak
General code maintenance and refactoring
Minor UI/UX improvements 
Version 3.2.0
Added built-in Keymap Editor (prototype)
Significantly improved performance of tools with large target meshes!
Target mesh visualization will now split (under the hood) when working on a small portion, improving feedback performance for some actions
Shortest path selection keymap default changed from Shift+Alt+LMB/RMB+Double to Ctrl+Shift+LMB/RMB+Click to better match Blender
Added ability to hide/reveal target mesh geometry
Added button to recalculate normals in the Target Cleaning panel
Added ability to Collapse Edges & Faces from delete/dissolve/collapse menu
Tweak and Relax can now slide vertices along a boundary
New Plane Symmetry Visualization setting, which is now default for better performance
Added selection options to help with selecting hard-to-get vertices
Improved Updater System
General code cleanup and refactoring
Works in Blender 2.83.0--3.0.0alpha (as of 2021.06.21)
Many bug fixes and UX improvements
Version 3.1.0
New Knife tool for cutting into existing geometry
Selection painting (Select and drag) now selects geometry along shortest path from where mouse was first pressed to the geometry nearest current mouse position for cleaner results
Tools are now much more responsive when working on targets with high geometry counts
The tools pie menu is now 'Q' instead of '~' to reduce finger gymnastics
Loops, Tweak, and Relax: New quick shortcuts for making adjustments then returning to the previous tool (Ctrl+R, C, and Z respectively) 
Major UI performance improvements from redesign and reimplementation of underlying UI system
New display option that draws a red line around the perimeter of meshes and highlights detached vertices so you can quickly tell if the mesh is non-manifold
Added button to push target vertices along normal before snapping to fix vertices snapping to inner source surfaces
Added actions for hiding or revealing target geometry
Added updater options for updating to specific branches or commits
Docs: New button to view docs on the web (http://docs.retopoflow.com)
Target Creation: Added button to create a new target mesh at the active source object rather than the 3D cursor
Several bug fixes and UX improvements 
Version 3.0.2

Tweak and Relax: Added brush presets
Symmetry: Added button to apply symmetry and improved visualization
PolyStrips and Strokes: Brush settings now remain through sessions
Strokes: Added span insert modes so you can use either the brush size or a fixed number 
Improved vertex selection in tight areas
Added Edge Flow Smooth operation (Shift+S in any tool) to quickly smooth any non-boundary edges
Several bug fixes and UX improvements
Version 3.0.1
PolyPen: Added ability to move edge with drag after inserting a new quad and before releasing
PolyPen: PolyPen pie menu now shown in help docs
Strokes: Added simple visualization to show how a stroke will connect to existing geometry. Still a WIP! 
Tweak/Relax: Brushes no longer become fully opaque or fully transparent when the strength is set to 1 or 0.
Patches: Improved code to detect good candidates for bridging I strips
Added optional quit confirmation when using Tab to exit RetopoFlow
Dissolving edges now also dissolves verts like Blender does
Added Delete/Dissolve pie menu under Ctrl+X, Ctrl+Delete, and Ctrl+Backspace
Varies misc. bug fixes
Version 3.0.0
Support for Blender 2.8+
Left click select support for all tools
Added shortcut hints to Blender's Status Bar
Improved design for the interface, tooltips, icons, labels, and gizmos
Minimizable toolbar for distraction-free work
A pie menu (the '~' key) to quickly switch between tools
Several critical tool speedups
Refactored save and autosave features
Start up checks, such as for inverted normals, to make sure the project is ready for retopology
Added controls to the Relax tool so it can be adapted for tricky situations
Added an all-quad insert mode for the PolyPen tool
Added 'R' and 'S' hotkeys for rotating and scaling in any tool
Many small performance and stability improvements
Version 2.0.3
Hiding RF buttons in 3D View panel to improve overall performance when Region Overlap is disabled
Visualizing target geometry counts in bottom right corner
Improved target rendering by constraining normal offset
Only showing "small clip start" alert once per Blender run rather than once per RetopoFlow run
By default, the options for unselected tools are hidden (can disable Options > General > Tool Options > Auto Hide Options).
Overall stability improvements
Version 2.0.2
Various bug fixes
SHIFT+F1 now opens General Help
Minor UI improvements
Version 2.0.1
Internationalization no longer breaks navigation! RetopoFlow now has full support for languages other than English.
Improve Help docs for all tools and new ability to View All Help Documents without requiring tool switching
Improve type rendering via monospaced font that now matches Blender's type font
Exposed the Select Distance option under General
Added Merge Distance option for Polypen
Improved tool tips for all tools
Many other small fixes and improvements
Version 2.0
Complete rewrite from the ground up with unified tools and many new features!
Version 1.3.2
Minor update to the Add-on Updater code, preparing for v2.0 release
Version 1.3.1
Source and Target object transforms no longer break tool workflow, enabling you to retopologized rotated and scaled objects finally.
Polystrips and Polypen mesh drawing has been improved, such that the geometry always draws on top of the surface correctly
Help text no longer overlaps the background when using Blender's Region Overlap
Fixed issue where some patches would go haywire when the strip connected back to its self
Contours will no longer crash when sliding a loop over a hole in the source mesh
Dramatically improved surface snapping on meshes with dense geometry containing concave faces (such as dynamic topology models): before, after
Fixed an issue where canceling a Contours loop transform would result in a twisted loop
Fixed a nasty bug that caused a fatal crash during Polypen if you zoomed the camera inside the source object.
Version 1.3.0
Introduce the Add-on Updater! New versions beyond 1.3.0 will now be installable right from within Blender.
Version 1.2.5
Fixed issue where Bezier objects in the scene caused a crash
Tweaked color saturation for Polypen meshes, improving disability.
Version 1.2.4
Fixed display issue where Polystrips would draw under the source surface in orthographic view
Fixed issue with Polypen creating twisted faces when created at sharp angles
Version 1.2.3
Fixed bug that broke Polypen on second vertex insertion
Version 1.2.2
Added ability to dissolve 2-valance vertices (vertices with only two edges connected) in Polypen
Fixed bad crash on loading a new file while RetopoFlow enabled
Fixed forcing view into wireframe when starting tools
Fixed Polypen vertex-insert only inserting into the middle of the clicked edge; now inserts at the point of click
Improved undo in Polystrips, now better tracks selection and restores to the proper state
Greatly improved Polystrips rendering; now based on dynamic distance from object to view
Fixed Polypen failing and causing mayhem in Local View
Fixed some issues with Polystrips going askew when working on scaled objects
Fixed undo in Tweak not taking effect immediately
Fixed hidden geometry being selectable in Polypen
Fixed vertices and edges not being properly occluded when hidden in Polypen
Fixed a few other misc issues
Version 1.2.1
Fixed a bad crash when creating a new file after the add-on was disabled
Version 1.2.0
PolyPen Tool: a new tool that enables easy creation of triangles, quads, and ngons in any formation
Polystrips is now able to create patches alongside existing geometry
Polystrip patches now support T-junctions on patch boundaries
New "Open Error Log" function to enable easier troubleshooting
Greatly improved error-handling, RetopoFlow tools will no longer crash upon errors
Improved the drawing style of Polystrips and Tweak geometry
Added support for Retina/4k displays
Greatly improved Polystrip behavior on thin geometry
Added Blender 2.77 support for all tools, addressing API changes
Fix conflict when some other add-ons were enabled
Version 1.1.3
Fixed error in unregister function; used when the add-on is disabled.
Version 1.1.2
Fixed Tweak mode in Polystrips being broken
Improved handling of Source / Target objects to auto-clear setting when objects are deleted
Version 1.1.1
Tweak Tool Relax Mode: hold SHIFT while tweaking to relax vertices. Attempts to make faces square.
Improve Error Messages: many error messages were edited to be more artist-friendly and be more helpful
Polystrips now adds a Mirror Modifier at creation if X Symmetry is enabled
Added Recover Tip text to help panel(s) to help users recover work upon crashes
Removed Right Mouse Button as an operation cancel option, removing conflict with RMB navigation keymaps
Fix Polystrips and Contours not using Show X-Ray at Mesh Creation option
Fix for Junctions disappearing and becoming unselectable
Fix for source/target objects being deleted and causing Blender to crash on next operator start.
Version 1.1.0 - Requires Blender 2.76
10-100x speed boost in most cases! The speed change is night and day difference.
Tweak Tool: easily tweak your new retopologized mesh with a brush tool, no selection needed, greatly improving workflow speed.
Loop Cut Tool: quickly add any number of surface-snapped loop cuts to your new mesh
Loop Slide Tool: slide edge loops along the surface of your source object, greatly improving workflow for snapping geometry from any angle. No Shrink-wrap needed.
Added Source and Target object functionality: retopology is no longer dependent on selection, making workflow more flexible and easier.
Polystrips Symmetry Visualization: symmetry can now be visualized and toggled with Shift + X in Polystrips.
New custom icons for all tools!
Refactored all tools into a much better structure, enabling simpler development and dramatically improving codebase organization
Brush size in Polystrips and Tweak now keeps its size across sessions
Fixed keymap conflicts with custom navigation controls
Fixed many, many misc bugs as part of the refactor.
Version 1.0.1
Custom icons for Polystrips and Contours (requires Blender 2.75+)
Improve Polystrips to use key_map.py file for easier customizability
Improved color theming for Contour Guides and Tweak tool
Disabled debug display of various elements of Contour Guides
Various misc fixes and typos
Version 1.0.0 - initial release
Credits:
Robot skull model example created by and property of Ivan Santic