Start your
Blender Business

today

Welcome to the only marketplace built by Blender users to support the Blender community, Blender artists and Blender development. Earn up to 95% of each sale while having the option to donate a portion of your proceeds to the Blender Development Fund.

Sign me up!
Invest in future Blender Development
Blender is important to you and it's important to us. Which is why we have built functionality to enable creators to easily, and automatically donate a portion of their profits to the Blender Development Fund, thus empowering more creators to help support Blender
Perks of being a Creator on the Blender Market
Quality Assurance Reviews
It's more than an approval process, a member of the Blender Market crew will download your item, test it, and ensure it is ready for the spotlight.
Keep Your Customers in the Loops
Wish you could email your customers directly? With the Blender Market customer messaging feature you can reach all of your customers straight from your Creator Dashboard.
Open Creator Collaboration Channel
Don't get stuck in a silo, ping ideas and collaborate with other creators on the market in this private Slack channel for Creators only!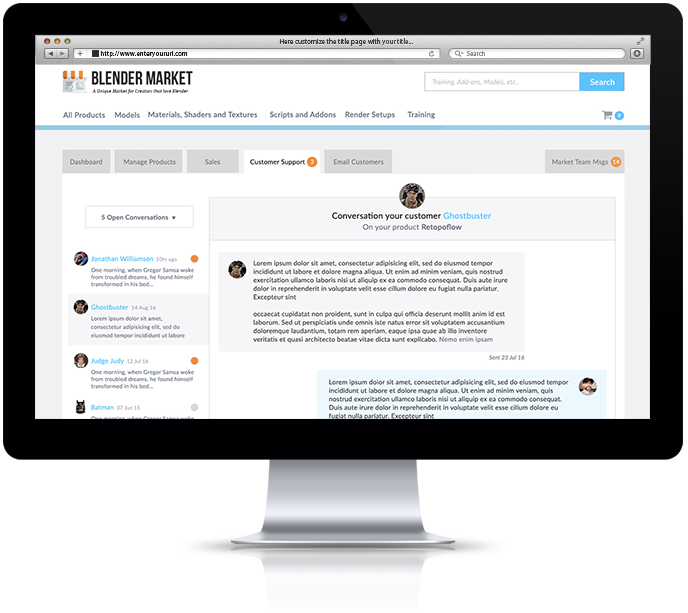 Keep your customers happy!
Creating a product is only the first step, keeping customers happy through great support is essential to building a sustainable business. On the Blender Market you can reach customers any time and they can reach you, right through a direct messaging system for easy product support. A happy customer is a repeat customer.
I'm really impressed by the constant willingness of the CGCookie/ Blender market team. They keep on finding new ways to improve the website, they reply carefully to each of my questions... As a vendor I do appreciate a lot this professionalism. Thanks guys!

The Blender Market has given Blender users a clean simple interface to sell or purchase products geared towards Blender. The product quality is always kept high and tested before being placed for sale which shows the dedication of the Blender Market team. Customer service is always on point for both sellers and buyers. I'm confident that if I ever have any questions or concerns regarding the site I'll receive a quick response. I'd like to thank the Blender Market team for all the opportunities they have given me and other Blender users to create the spectacular art we love.

Blender is a fantastic program, and my personal go-to. With the Blender Market, not only can I find functionality I didn't have before, I can find tools that no other package even offers. Tools like Retopoflow and Speedflow have changed the way I work in 3D forever.
Earn up to 95% commission on each sale, no strings.
Join a unique market that supports the Blender ecosystem with the best products & training
See pricing and commission rates on the Pricing page.
Sign me up!