Car - Porsche 911 Targa Car + Free Octane Version Of Car
---

 Hi guys,
we are 3Dshaker and we have started an interesting collaboration with Zifir. He is a talented 3Ds Max user, who is specialized in 3D modeling, we decide to join forces and start creating realistic 3D models for you.

This model is created and adjusted to work in Blender 2.79 - cycles and is also compatible with Eevee. 
Used Principled BSDF material shader. This model is great for archviz projects. The silhouette: iconic. The design: timeless. The technology: inspired by great racing victories and always one step ahead. With the eighth generation of the 911, we're driving into the future. More about the car you can find here. 
The file consists of:
- blend file format
- renders
- textures
- HDRI map
- license information
- model of Porsche 911 Targa
verts: 403 215
faces: 428 107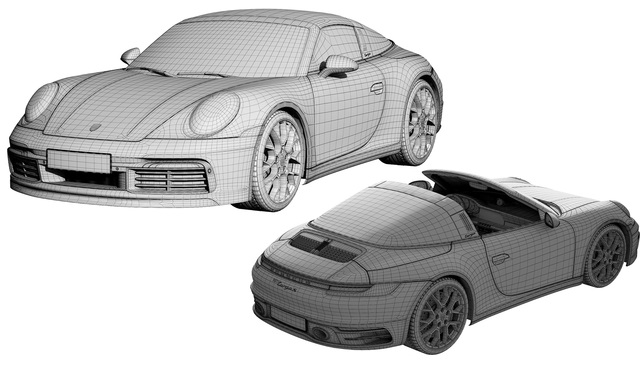 Hope you will enjoy it!
Thanks for supporting us and the Blender community!
DO NOT MISS THE BEST PRICE OF CAR PACK!
Soon this car will appear in our car collection and its price will rise!
If you buy it now, updates will be for free!
Do you want to try OCTANE for Blender? 
If you already bought this model we have a little gift for you -
We prepared for you this model - Mercedes-Benz AMG GT 63 car - in OCTANE version and it is available for FREE - just open your orders and find product downloads.