polygoniq products
---
Trees, grass, flowers, palms, shrubs & plants
Vegetation Library Botaniq Addon
Trees & Grass for Blender 2.83+
Cycles & Eevee 
About
Tree library Botaniq is an ever-expanding library of optimized & realistic 3D vegetation - mostly trees and grass. It features a variety of Trees, Grass, Flowers, Weed, Palms, Succulents, Shrubs, Weeds, Plants and Pots for Architectural Visualization, Environmental Design, Rendering Forests, Landscaping, or any other scenes that could use a bit of varied greenery.
botaniq 6.1 is out!
NEW RELEASE: 2020/12/31: botaniq 6.1 Improved Scatter Assets feature to easily scatter all types of assets, 20 new models (tree Carpinus-betulus(3), tree Aesculus-hippocastanum(3), plant Monstera-variegata(1), shrub Carpinus-betulus(2), shrub Rhododendron(3), new subtype hedge Carpinus-betulus(2), flower Sunflower(6), duplicate materials of the Flower material so that the viewport colours better represent different flowers,  6.0 Bugfixes
 Check out full release log at the bottom of this page!
The library is always expanding with more trees & greenery joining the collection. Its price will rise slightly as it expands, but our goal will always stay the same - to create a massive library of models for everyone to use, with a very reasonable price/value ratio. 
The latest additions include:
Even more trees, shrubs, tropicals, succulents, pots+plants, scatter grass/weed and seasonal variations.
We also plan to add new features like wind animation, different levels of detail and tree painting among others, based on requests and feedback.

Botaniq 5.4: Willow Park from polygoniq on Vimeo.
Features
NEW FEATURE - Scatter Assets
Quickly populate selected object with either pre-made particle presets of grass and weeds or create your own.
Create density weight paint group for each particle system.
Set density per square meter and recalculate if needed.
Spawn Assets
Each asset has a rendered preview and can be easily added through our addon. By default, the assets are linked, but you can also choose to add them as editable objects or convert them later on.
Add new trees easily
Adding new assets has never been easier. Create your nature scene with just a few clicks by selecting the asset from the library.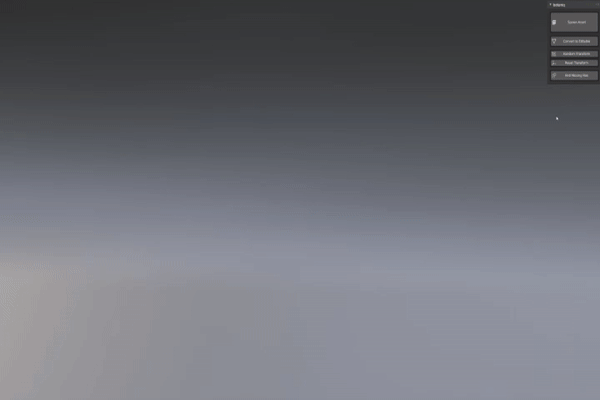 Snap to ground
No more floating trees or dragging your trees to ground one by one. Use the Snap to ground button to make sure all your trees are safely planted.
Randomize scale & rotation of selected assets
Nature is varied and random, so although it's unrealistic to have each tree unique, we've added a feature to automatically randomize the selected assets so their rotation and scale differs, giving the appearance of variation.
Seasons feature
Winter or autumnal scenes are no longer a hassle -just select your tree with the season you'd like, then edit the asset however you choose.
Convert to editable
Make your selection editable from right inside your scene!
Assets
NEW CATEGORIES- Grass, Weeds, Flowers
6 Grass species
5 Weed species
9 Flower species

Coniferous
~3 variations for each tree
White FirHimalayan CedarCedarCypressLarchJapanese LarchSpruceRed SpruceMaritime PinePineBuddhist PineFirUmbrella PineYew
Deciduous
~3-6 variations for each tree
MapleBuckeyeChestnutAlderBirchHackberryLemonBeechFigAshToyonAppleAspenCherryOakWillowBlack LocustLindenElm
Plants
Areca PalmBasilAspidistra (Cast Iron Plant)CorianderDracaenaFicus (Rubber Tree)HibiscusMonsteraChlorophytum (Spider Plant)Red Hot Chilli PepperSnake PlantSpathiphyllum (Peace Lily Plant)Tomato Red RobinZamioculcas (ZZ Plant)Pothos (Devil's Ivy)
Shrubs
~3 variations for each shrub
BoxwoodSumacElderLilac
Succulents
~3-6 variations for each cacti
SaguaroBall Cactus
Tropical
~3-6 variations for each palm
Areca PalmCoconut PalmPineapple PalmSabal Palm
216 textures
(110 diffuse, 106 normal maps)
1024x1024, 2048x2048, 512x2048, 512x4096, ...
What do others think about botaniq?
           "Botaniq saved me an incredible amount of time adding realistic trees and plants to my Blender scenes. The addon is very intuitive to use and the enormous amount of high-quality models looks amazing both in Eevee and cycles. It is definitely worth every penny."
- Nik Kottmann from Blender.daily
Let us know, if you wish to become an affiliate!
Feel free to join our discord channel about botaniq for support, ideas or a friendly chat - https://discord.gg/PwWBYy2!
RELEASE LOG:
2020/12/31: botaniq 6.1 Improved Scatter Assets feature to easily scatter all types of assets, 20 new models (tree Carpinus-betulus(3), tree Aesculus-hippocastanum(3), plant Monstera-variegata(1), shrub Carpinus-betulus(2), shrub Rhododendron(3), new subtype hedge Carpinus-betulus(2), flower Sunflower(6)), duplicate materials of the Flower material so that the viewport colors better represent different flowers,  6.0 Bugfixes

2020/09/23: botaniq 6.0 added Scatter Assets feature and initial models of grass, weeds and flowers (24 particle presets, 6 grass types, 5 weed types, 9 flowers), randomize variant feature, option to spawn asset into botaniq collection

2020/07/01: botaniq 5.4 18 new assets (2 coniferous, 15 deciduous, 1 plant), new feature snap to ground, deciduous material translucency fix, search bar fix, macOS better installation

2020/05/22: botaniq 5.3 Fixed a crash bug on OSX when no IP address is available, Fixed incorrect usage of gamma correction for normal maps, fixed a name clash related to random transform operator.

2020/04/20: botaniq 5.2 New succulents category with 9 models of cacti, 16 new coniferous tree models, added a search bar, fixed "Convert to Editable" to work correctly with 2.82+, fixed automatic install path issues on Mac, fixed the empty square to always be filled with first tree of given category, improved the UI with added icons and fixed some minor issues mostly relating to some material settings.

2020/02/08: botaniq 5.1 Seasonal versions of deciduous and coniferous trees, new shrub and pine variations, installer is now one big .zip file, fixed issues with missing textures and altered some materials, added "Find Missing Files" for botaniq when textures/models are missing and redid most of the naming system to be more consistent for the future.

2019/10/19: botaniq 4.0 added 23 plants, 24 various pots, fixed some albedos and a couple of small issues like missing alpha, improved documentation and button labels + descriptions

2019/08/14: botaniq 3.0 added 26 tropical trees, 3 shrubs, fixed some textures alphas and couple of alpha clip settings

2019/07/16: botaniq 2.0 added 15 trees, 6 shrubs and improved previews with common English name of given species

2019/07/08: botaniq 1.0 first release with 63 trees