Spider Web Generator With Geometry Node
---
Spider Web generator
With this Geometry Node based blend file yo can set your scene on a different level.
HOW TO USE
After downloading the blend file you can append the geometry node from it or simply just use the downloaded blend file.
All object you want to apply the web on have to be in the same collection. 
All ready to go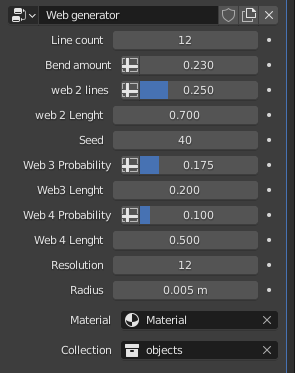 You have a lot of setting to tweak it to make sure its looks how you like it.
Simply go to the modifiers tab and change the numbers or move the sliders
You can set up multiple collection or single item.
Set your own material or set different colors. 
You can move your objects around the spider web will follow it along so you don't need to recreate it. 
You can purchase this project together with wall builder and rockyfy on my page for better price as a package.