Stylised 3d Game Model Complete Beginners Guide
---
Stylised 3D Game Model: Complete Beginners' Guide
Hi and welcome to this new 3D Tudor course, 'Stylised 3D Game Model: Complete Beginners' Guide'. This is complete beginner's guide to creating a 3D stylised game model. This course will teach you how to create a stylised 3D model from scratch to a professional level, following industry pipelines. If you ever wondered how AAA assets are made by some of the biggest players in the industry, then stay tuned and find out what this course is all about.
Like my other courses, I will be taking you on an extensive 3D modeling journey involving modeling, texturing, freebies, lighting and rendering a game ready 3D asset. The focus of this course is to show you how to make realistic models, to a real-world scale. Enroll in this Blender 2.83 course and experience over 8 hours of content, full of learning opportunities to take your 3D modeling, sculpting, texturing, lighting and rendering skills up by quite a few notches. By completing this course, you will walk away with a comprehensive view of how to model from the ground up, with a super-fast industry-standard workflow. All this exclusively in Blender 2.8.
'Stylised 3D Game Model: Complete Beginners' Guide' has a new learning format that will be relevant to beginners. This course is also relevant to those students who are more familiar with 3D creation and modeling using Blender software, or those who are transitioning into Blender from another piece of software or from the previous older versions of Blender.
Using everything I learned from previous courses, mainly from all your helpful feedback, I was able to make a course that really has the wow-factor; something you will be proud of accomplishing.
Modelling
This course will teach you how to model stylised assets from the ground up, using Blender 2.83. Whether you are an absolute beginner or someone who is looking to elevate their skill level, animations will be telling you all about modifiers, Blender functions, and key commands, which will guide you along the way – popping up right when you need them. This course explains everything and will include a step-by-step exploration of all the new shortcuts that have come with this new Blender version. Best of all, this unique course functionality also lets you set your own pace. This allows the course to be viable for Blender users of any level.
By the end of the course, the knowledge you will have learned can be put to use independent of the direction you take in 3D modeling – following the amateur or the professional path.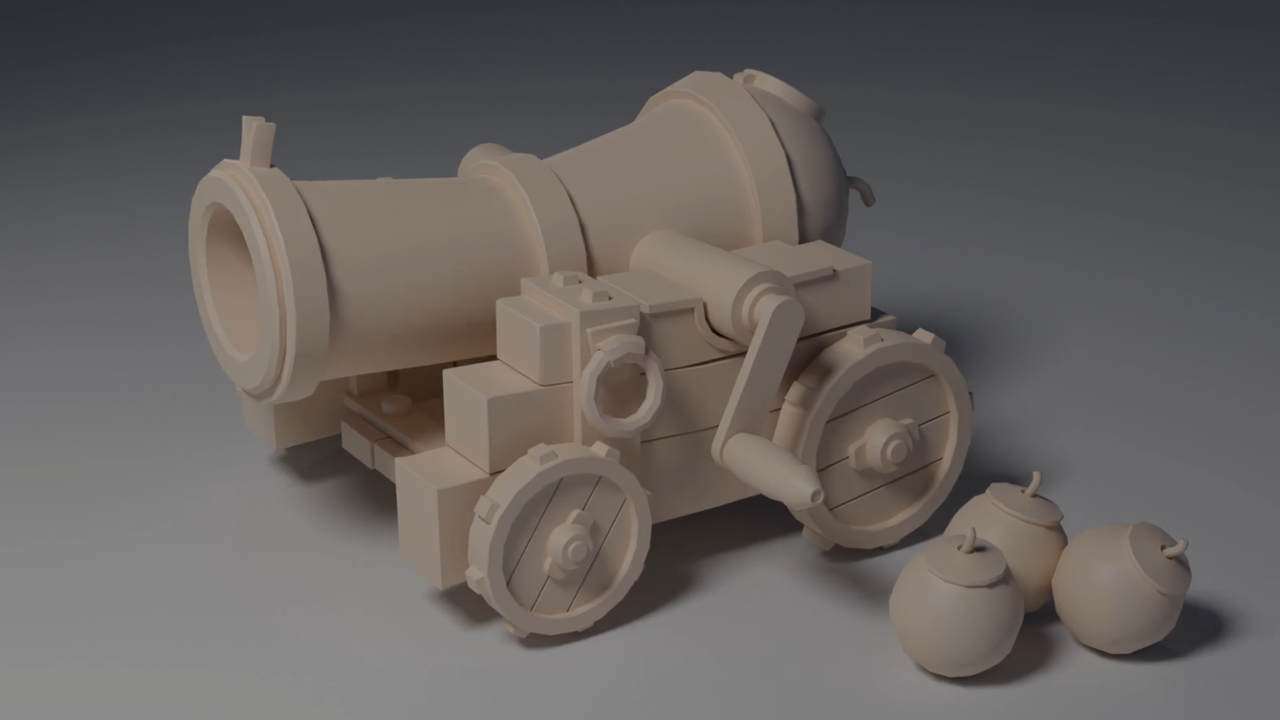 Sculpting
Next, to take our 3D model to the next level, we take a deep dive into Zbrush. You will learn various simple Zbrush techniques to bring your 3D creation to life. This course will take you through the very basics of the Zbrush UI, all the way up to preparing a model for export. What is more, you will be learning new sculpting skills, in addition to learning how to optimise your model to make it game ready.
Texturing
In this section, we will be using Substance Painter. Substance Painter is an industry standard software. You will learn how to create complex stylised materials from scratch. We will also go over how to lay or apply multiple materials to meshes. As we texture, we will take an in depth look at how to create texture bakes using high- and low-poly models. In the end, you will come away with a broad understanding of maps and textures, all in just a few hours.
Rendering
Finally, to present our model in the professional way and make it really stand out in any portfolio, we will be rendering out in Marmoset Toolbag 3. We look at the best texture maps to use for rendering, and we will go over how to set up not only just one render, but three, including a fully textured and wireframe turntable. You will come away with renders which you will be proud to show off on your social media. By the time we have finished rendering in Marmoset Toolbag 3, you will have the knowledge and confidence to create stylised assets that look like they fell out straight out of a game.
I always feel that lighting is one of the key components that tend to be the most overlooked. To be honest, I learned this the hard way, seeing as lighting is important with regards to making a scene pop. I have taught you how to set up your lighting in my previous course, 'Blender 2.8 Model a Lightsaber for Beginners', within Blender, but this time, we will take it a step further. All lighting including environment lighting and extra light were set up within Marmoset Toolbag 3.
Download Pack
Best of all, this course also comes with a free download pack, full of everything you will need for the course. This will include things like full references, Zbrush brushes, and textures just to name a few. The 'Stylised 3D Game Model: Complete Beginners' Guide' course download pack will include 3 different brushes, one resolution map, five rope textures (albedo, height, metallic, normal, roughness), a skull decal, and a wood grain illustration.
These are resources that you are free to download and reuse in your other projects. I created all these textures and resources using a mix of Substance Designer, and Adobe Photoshop (e.g., for the smoke decal). All textures included for free with this course are custom made specifically for this course.
So, with all that said, I hope I have whetted your appetite to start your journey into stylised 3D game asset creation. Check out the free introduction and I am sure you won't be able to put this course down. Check it out. You have nothing to lose, but everything to gain.
I had a blast making this course and I am sure you will too!
Happy modeling everyone!
Neil, 3D Tudor