Real Runes - Symbol Modelling Add-On
---
Check a tutorial / video guide in the ''Video Demo'' above.


Real Runes is a growing library of symbols and glyphs.
They can be added to any curve with one click.






General Use Case:
Add a curve object / make a curve from mesh edges.
Press 'Apply Runes to selected curve'
Choose your desired Rune category and Rune Type
Iterate and style your Runes with various parameters




Naxi Dongba pictographs


Real Rune has currently 80 Rune types
. Some Rune types such as 'Naxi' contain more than 1000 pictographs.


Historical - for a touch of realism

Magical - for spells and sigils

Latin - for writing custom, readable text
Fictional - for inspiration and fan art







Read the 'Real Runes - Font Guide and Sources' included in both free and paid versions to check all available Rune Types and their histories.






Easy customization: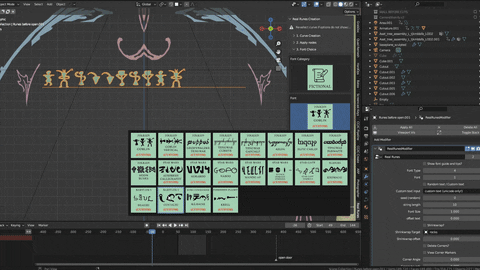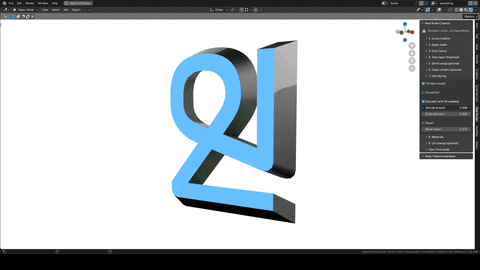 Being powered by Geometry Nodes means customization is quick and easy. Runes can be extruded, smoothed, beveled and more straight from the add-on / modifier.


To install or not to install
If you love add-ons, great! Install Real Runes and use it like any other add-on. Don't want another add-on? Super, append the node group and use it like any other Geometry Nodes asset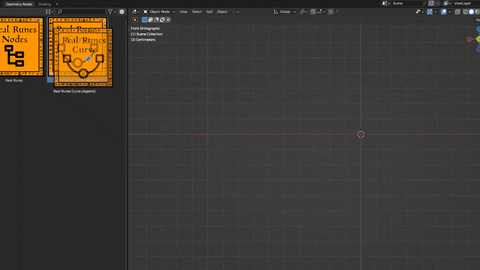 Freebies!
No one likes to jump in without trying so I have included a free limited version of Real Runes with the full Geometry Nodes group and 5 Rune fonts to get you started.
| | | |
| --- | --- | --- |
| Free Version | Historic Version | Full Version |
| $0 | $5 | $14.50 |
| 5 Rune types | All Historic Rune types (Currently 20) | All Rune types (Currently 80) |
| Sword Generator Demo File and documentation | Sword Generator Demo File and documentation | Sword Generator Demo File and documentation + .zip of included fonts. |
| No future updates | Free future updates of Node Tree and Historic Runes | Free future updates |
I have also included the free sword generator demo file -'RealRunes_Demo_Sword_Maker' to get you started in testing Real Runes capabilities.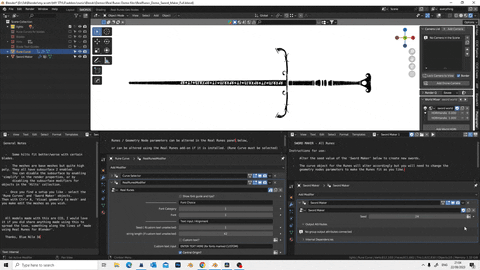 Update log
Make sure to uninstall the current addon before installing the new one and restart blender.

Real Runes 1.1
 - Added 12 more Rune types in the 'Latin' category.
- Fixed an error in the 'help/example' files where 'curve tilt' was not set properly.


This was made with Serpens! I couldn't have made it without that product, it is incredible!

My other addons