NodeScapes v0.61 
As this is a BETA version of the addon, we will be reducing the price by roughly 33% (to the nearest round number) until final release version 1.0
From the creators of True-Terrain, True-Space, True-Grass... You know, all the 'True' addons. Those guys made this!! 
NodeScapes is the future of Terrain Creation in Blender. Using a custom-built, node editing suite; NodeScapes gives you unlimited possibilities to create whatever you want... within reason of course.
Join our Discord Channel for support HERE
View our project progress HERE
Who is this for?
Do you need to make an awesome Terrain? If yes, then it's for you so keep on reading. If no, then maybe it's not for you, but, you'll probably need it at some point, so why not read ahead anyway and see what's what! 
We knew, when first coming up with this concept, we needed it to be 3 things: 
Easy

Something people are used to

Fast
This left us with only one logical outcome. NODES!
Everyone who's used Blender has used nodes. However, Blender doesn't have a built-in node system for mesh generation, so we scratched our heads, did some research, and decided to build our own system.
We knew that something this new, would need to be able to give the user, an easy start point, so they can get to know the ropes. So we've included several custom-built presets, for you to execute right out the gate. 
This allows anyone, to jump right in, load a preset up, and start messing with the nodes to see what does what. 
PRESETS!!
Now, we knew that NodeScapes would need to not just offer the fastest, most intuitive way to make terrains, but it also had to offer tools artists already are used to. Usually, you will find that when it comes to terrain generation tools for Blender, one tool will have certain functions, that another doesn't, but lacks functions that another has, so you end up with an addon that can't offer it all. 
For example; you want to be able to generate terrain based on a heightmap. Pretty simple function? You get your tool, add your map in, and bam, there it is. BUT, what if you then want to build upon that heightmap? 
HEIGHTMAPS!!!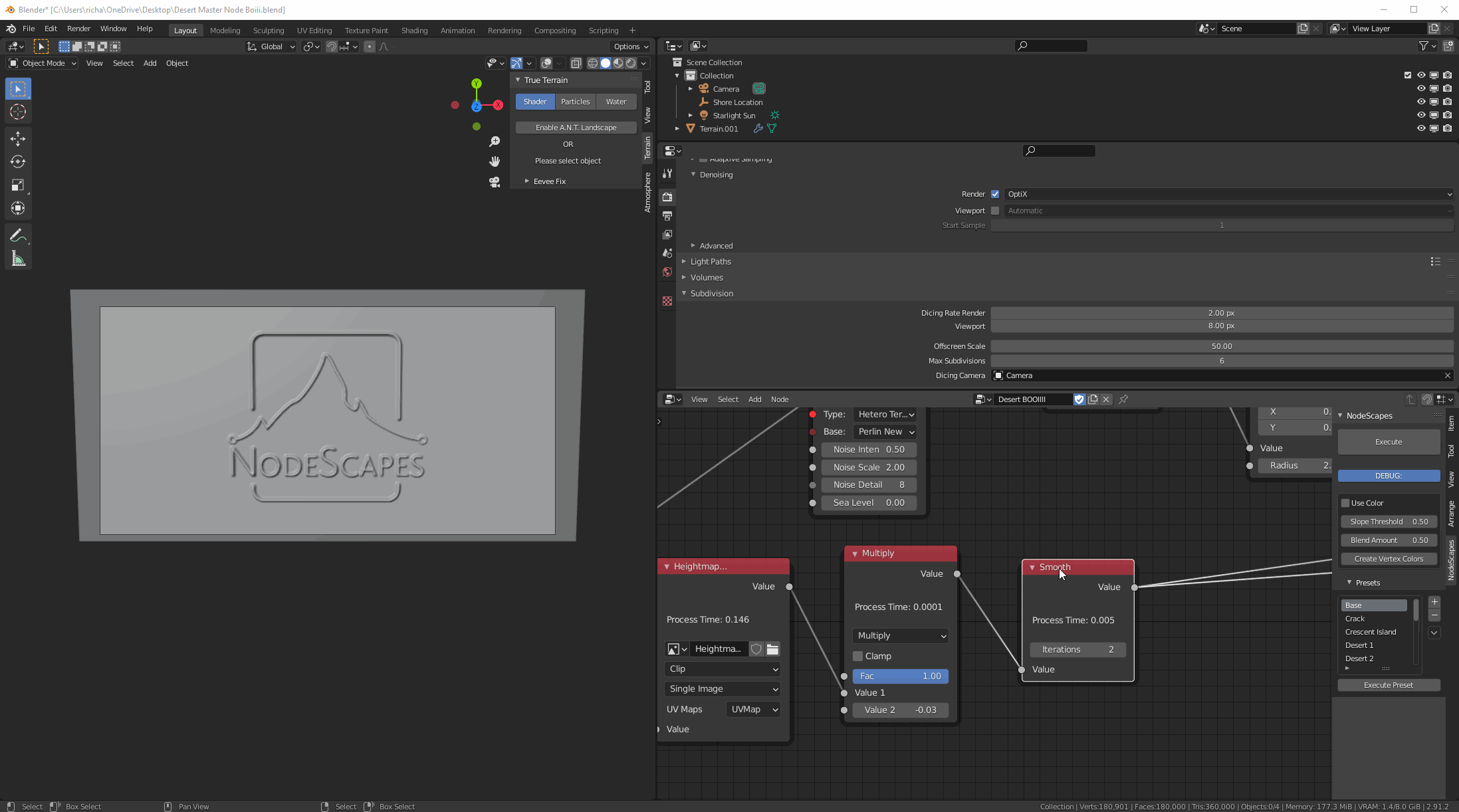 That's not something you usually find, but, we added that function in!
Okay, so that's pretty neat. But what about say, You want to put a mountain range, near a flat desert biome? 
That requires some mixing of terrains? That's not possible in conventional modelling or UI based tools. Yeah... We did that too!
Okay, Okay... What about erosion? You want to erode using Thermal or Hydraulic erosion? 
Of course we added that in :) 
It also works Pretty well with True-Terrain* too, in that you'll be able to change your mesh, and watch as the materials automatically update: 
We set up NodeScapes to provide the artists, unlimited levels of detail! Using an intuitive subdivision node, it allows you to decide how much detail you want, by just typing in a number:
NodeScapes is the Artists choice for creating terrains. We give you all the Nodes, options and functions needed to make vast environments with high levels of detail and real-life accuracy!
Current Limitations of BETA version: 
Doesn't support image manipulation for the image node

Currently, you cannot keyframe the nodes and watch them animate 

Erosion functions can be slow depending on SubD levels on the mesh, and setting of the erosion node

Curve node doesn't automatically update node tree. You can either click EXECUTE, or use preview node keymap, to initiate.

There is no progress bar for Simulation nodes yet

Blenders nodewrangler keymaps and functions are not supported. These need to be custom made and will be added in, in time.

Plugging node outputs into the wrong node inputs doesn't cause warning, or tell user that it's wrong. This will throw an error when you execute, or simply won't do anything.

Dropping a node into a link, doesn't plu into the correct socket all the time. You will need to manually move the noodle into the correct input nodule. 

Only a plane can be used to displace, and it must be executed using the INPUT object node. You cannot use Nodescapes on existing meshes

Some math values can provide unwanted results

DISCLAIMER: BUYING NODESCAPES IN BETA DOES MEAN THAT WE MAKE BREAK SOMETHING DURING AN UPDATE. ALTHOUGH WE WILL TRY OUR BEST TO MAKE SURE THIS DOESN'T HAPPEN, THERE MAY BE CASES WHEN IT DOES. PLEASE BE AWARE THAT THIS IS A BETA VERSION AND THINGS MAY CHANGE/BREAK/NOT WORK AS INTENDED

*True-Terrain is sold separately HERE. If you purchase this, then you will receive a discount code for 20% off True-Terrain in your downloads folder.