Next Street V3 - Road Generator
---
What is Next Street V3






Next Street V3 is designed for creating and customizing streets and urban environments in Blender, a 3D animation software. It provides a variety of features for managing sidewalks, street profiles, optimizing scenes, and controlling texturing, allowing users to craft realistic and immersive street scenes with ease.




The tool is now on sale use coupon "next-street-v3" to get 15% discount (this discount will be available until the tool hits 600+ sells)

On/Off Toggle: Easily manage the simulation with a simple toggle. Easily activate or deactivate the Simulation feature, granting you full control over the application of dynamic animations. 
Viewport proxy: Experience smooth and navigate through complex scenes without compromising on performance.
Isolate Simulation: Maximize efficiency with the "Isolate Simulation" button. Optimize simulations and drastically reduce baking times. This feature saves you valuable time, empowering you to focus on refining your creative vision.
Bake Animation: Accelerate your animation workflow with the "Bake Animation" feature. Cache car animations for lightning-fast playback, allowing you to visualize your scenes in real-time without compromising on quality.
Seed: Achieve realistic animations with the "Seed" slider. Randomize car positions to bring diversity and realism to your scenes, providing a more immersive and authentic experience.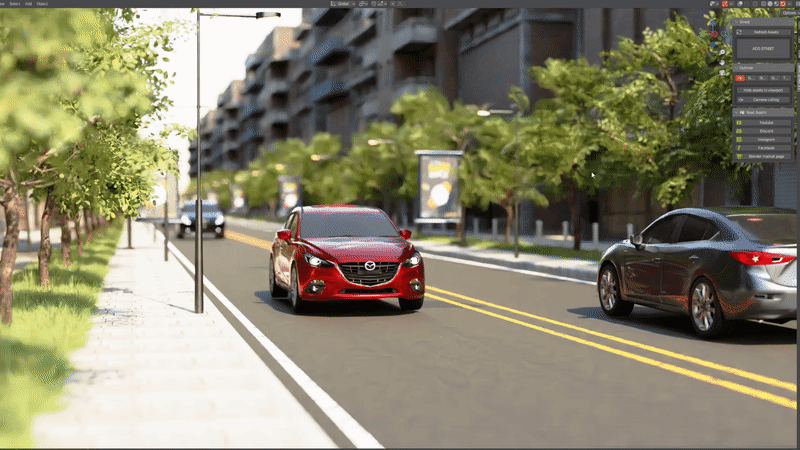 Hide/Unhide Assets in viewport: Reduce viewport load and enhance scene performance by hiding assets in the viewport.
Camera Culling: Select the camera in your scene to enable camera culling. This smart feature will display only the area within the camera's view, further optimizing your viewport performance.
Offset Slider: Fine-tune the camera culling effect with the Offset Slider. Increase or decrease the culling area to perfectly match your specific scene requirements.
Update camera properties: Ensure accurate camera culling with the "Update Camera Properties" function. This feature extracts essential data from your camera properties, guaranteeing a precise and efficient culling process.
Sidewalks 






Sidewalks toggle: Effortlessly enable or disable sidewalks with a simple button.
Guardrail toggle: Conveniently enable or disable guardrails with a single click. Fine-tune your scene's safety and aesthetics effortlessly. Switch to Edit Mode to customize sidewalk profiles. Select specific edges for personalized adjustments, tailoring the appearance of your sidewalks to perfection.
Sidewalk Profiles: Explore a wide array of sidewalk profiles in the browser. Find the perfect match for your scene's style and atmosphere, effortlessly enhancing its visual appeal.
Sidewalk Material: Select from two distinctive options - Brick Line Materials and Sidewalk Material. These materials offer unique visual characteristics, ideal for diverse scene requirements.
Sidewalk Grass: Bring realism to your sidewalks with lush grass. Browse different grass profiles and use the slider to control the grass density, achieving the desired natural effect. 
sidewalk bench: Add realistic benches to the sidewalk. Select from various bench types and use the spacing slider to control their distribution along the path.
Sidewalk light: Illuminate your scene with sidewalk lights. Personalize the light's color, power, spacing, and offset using intuitive sliders to set the perfect ambiance.
Sidewalk signs: Place informative signs along the sidewalk. Use the spacing slider to control the distance between signs, enhancing scene detail and realism.
Sidewalk services: Enliven your sidewalks with a variety of services. Utilize profiles to select desired services and fine-tune their distribution with the spacing slider.
Sidewalk garbage: Choose from a range of garbage to populate your sidewalk. Add garbage elements to create a more lifelike environment. Use the slider to adjust the spacing between the garbage objects.  
Sidewalk advertisement: Choose from a range of advertisements to populate your sidewalk. Add advertisement boards along the sidewalk to bring your scene to life. Control their distribution with the spacing slider.
Sidewalk bollard: Choose from a range of bollard to populate your sidewalk. Enhance the realism and safety of your scene with bollards. Use the slider to adjust the spacing between them.  
Sidewalk trees: Populate the sidewalk with trees for a lush and inviting setting. Choose from two profiles - tree and grass - and use sliders to control the density of grass, Use the slider to adjust the spacing between them.


 
Street Profiles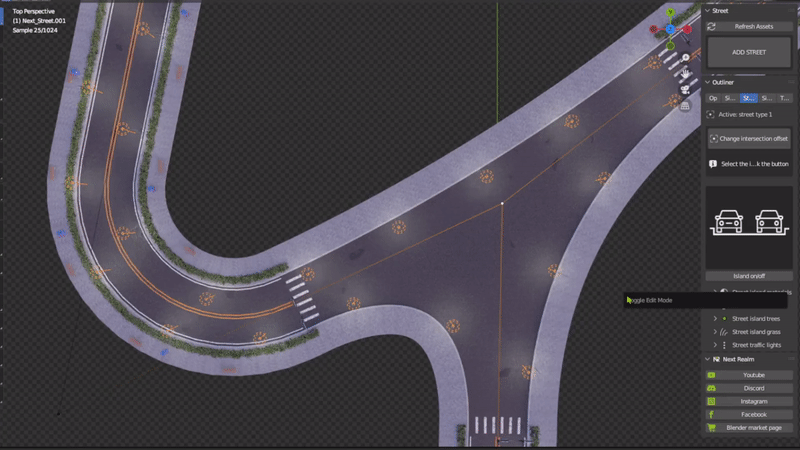 Street Profiles: Easily pick your desired profile from the browser. Create diverse and captivating urban environments with a wide range of options.
 
Island toggle: Effortlessly position the island in the center of the profile. Easily control the layout and aesthetics of your scenes.
  
Island Materials: Choose between Brick Line Materials and Sidewalk Material. These distinctive materials enhance visual appeal, making them perfect for various scene styles.

 

Street Island Trees: Effortlessly control tree spacing, adding life and greenery to your urban settings. Fine-tune the distribution to achieve the desired balance.

 

Street Island Grass: Utilize sliders to control grass density, creating a realistic and lush environment. Adjust spacing between elements for an immaculate sidewalk landscape.
Wet Slider: Easily adjust the wetness of surfaces with the "Wet" slider. Add realism to your scenes by controlling the wet effect on objects, creating stunning wet surfaces after rain or water interaction.
Water Height Slider: Achieve realistic water levels with the "Water Height" slider. Control the height of water bodies in your scenes to accurately simulate lakes, rivers, or oceans.

 

Scale Slider: Fine-tune the scale of textures using the "Scale" slider. Achieve the perfect texture size to match the dimensions of your objects, enhancing visual consistency.
Snow Slider: Create winter wonderlands with the "Snow" slider. Control the density and coverage of snow on your scenes, bringing your winter scenes to life.

 

Snow Spread Slider: Adjust the spread of snow with the "Snow Spread" slider. Control the distribution of snow on surfaces to achieve the desired winter landscape.