Simple and Intuitive UI
Flora add-on has a very easy-to-understand and responsive User interface that helps you quickly preview assets add them into the scene.
160+ ASSETS

Features
Fast loading previews
Faster loading thumbnails, quickly let you view all of the assets.
Add asset at Center/Cursor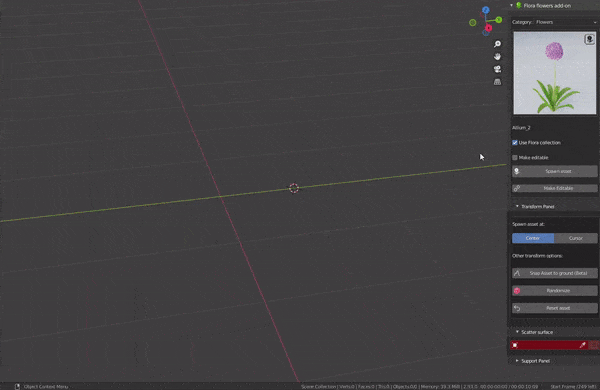 Choose between if the asset is to be spawned at the world origin or at the 3d cursor.
Snap to ground
Snap the assets directly to the ground within a single click.
Randomize
Randomize the orientation of assets in a single click.
Check updates
Check for updates in the preferences in a single click with all the new features available in the new version!
Scatter system
Flora add-on comes with Geometry Nodes based scatter system which is derived from Nisarga add-on 
The scatter system is rich with a lot of exciting features liked Viewport density control, scattering randomization, paint scatter systems, Masks - altitude mask, slope mask, and wind animation system, Lock scatter systems for safety. And more of the features will be added to the scatter system as geometry nodes evolve.
To see more info about the scattering system, Visit Nisarga's page - Click here.
Note - If you already purchased the Nisarga add-on, you do not need to purchase, this one, as nisarga consists of most of these assets. and those extra assets will also eventually be added into the nisarga add-on. 
Interested in our other products?
Documentation
 Click here 
Support
 Click here 
Release notes
 Click here