Toon rendering is hard! Broken normals or Emissive shading are your only options and both results are equally disappointing...
...until now!

Thatimster & Wayward Art Co proudly present:
Fade is a Toon Asset Pack crafted for quickly creating NPR scenes and animations.
Core Features:
Smooth Toon Shader
One Toon Shader to rule them all! Consistent light based shading with additional controls for contours, specular, shadows, border / outline and normal maps. Flexibility and control like never before.
Solid Toon Shader 
Need something more traditional? The Solid Toon shader has you covered! Controls for border noise, light scaling, shadows, alpha, color and normals will allow you to quickly fit any model into any scene within a few seconds.
Smooth Shading
Apply to any mesh with 1 click and obtain smooth results regardless of the shape or size. Completely dynamic and 100% shader based, no mesh modifiers needed.
Vegetation Shader
Maximum shader control for any alpha based material, change color, texture, smoothing, outlines, shadows, ambient occlusion and more!

Procedural Color
Every included asset and shader has the ability to change its color. No need to edit the colors of the texture. These procedural shaders allow you to modify the colors of any material to perfectly match your scene.
Procedural World Skies
Mix reality with powerful node groups for magnificent backgrounds. Available for Day and Night with more to come.
Background Gradients

Make your models pop with colorful background gradients, visible from any angle, perfect for turntable art!
Low-poly Grass
Create massive fields of grass with very little overhead. Procedural wind control, animation, color and ambient occlusion.
Fog Shader

No more emission problems with volumetric fog. Shader based fog with simple controls and batch processing to copy settings.
130 Nature Assets and Shaders included: 
Bonus:  Weather effects (automatically animated via drivers)
No need to spend hundreds of hours modelling assets and tweaking shaders. With a wide variety of different nature elements you can simply select any model and add it to your scene with 1 click. 
One Addon, Many Functions: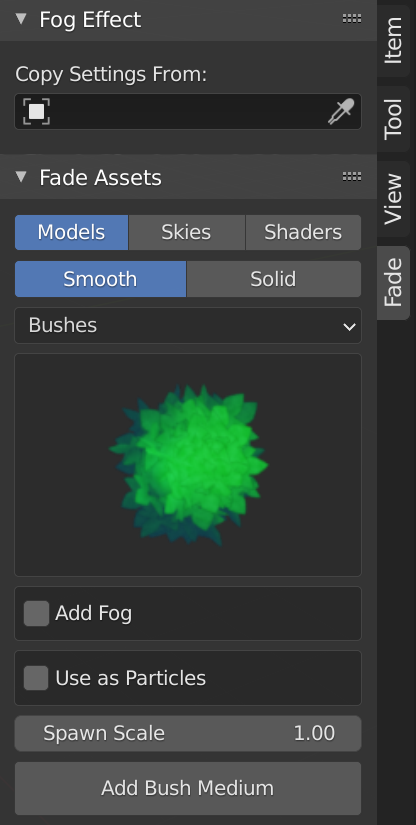 Instantly add shaders, models and skies to any scene with a few clicks. Asset previews, scale control, particle setups, automatic fog setup and much, much more!
Documentation & Tutorials:

From installation to understanding how specific shaders work, the new and improved documentation for Fade will make sure you won't get lost!
Additionally 2 new tutorials are included to help accelerate the learning process.
Example scenes made using Fade (Mouse demo scene included in downloads):
What you get:
Smooth, Vegetation, Fog, Smooth Toon, Solid Toon, Ambient Occlusion Shaders.
120 Different Nature Assets
2 World Skies + 2 Background Gradients

Fade Addon and Fog Tool
User Manual
Installation Guide
2 PDF Tutorials
Video Tutorial Collection Guide
Mouse Demo Scene

Free Lifetime Updates
Good Karma for supporting the Blender Foundation :)
Updates:
v1.4: New Metal Shader

(New) Metal Shader with 5 different reflection types

Labels added to all shaders for easier access
Updated documentation
Bug fixes and improvements

v1.31: Blender 3.1 Hot Fix
Fixed issue that was causing Blender 3.1 to crash when adding Trees / Foliage
Corrected display of particle options

v1.3: Solid styles, fire and outlines!
(New) Solid Toon Styles



(New) Procedural Flame Shader



(New) Outline support


Includes easy to access controls directly from the addon!

Mouse Demo Scene

Further bug fixes and improvements

v1.2: More Shaders, More Awesome!
(New) Background shading



(New) Ambient Occlusion



(New) Normal Map support


Control object option for precise adjustments and animation when adding a shader

Refactor of nature models to include ambient occlusion

+1 Video Tutorial Guide

Revised User Guide
Finished .blend added for Tutorial Scene

Bug fixes

v1.11: Undo bug fix
Fix issue where Blender was crashing when Undo is performed after adding an asset or particle system.

v1.1: Massive Update
+2 New Tutorials
+63 Additional Models
New Toon Solid Shader
Improved Toon Smooth Shader
Improved Grass Shading
Revised installation
20 Page User Guide
Improved Usability
Improved Performance
v1.01: Fog Improvements
Added ability to copy fog settings to all objects in a scene (with the fog node group). 

Improve automatic fog for grass and weather effects
Fog is now added and updated to all material slots on the selected object not just the active material