Extreme_PBR_Combo_3.2.2 is available for blender 2.79 & 2.81/2.82

Make sure you download the new libraries
Are you frustrated with complicated tools?
Have you ever realized how long it takes to create a simple pbr material?
Importing a lot of textures, looking for them, well I tell you, I've been getting tired for a long time and I created this simple addon to manage more than 1100+ pbr materials ready to use, it's a good starting point to save a lot of time.
Password = Speed!

Bye-bye to the big times to create a material

Now you can do it only with 1 click
New automatic water material is available since version 3.2
Now you can create animated water in 1 click:
You can adjust the wave parameters, detail, and choose whether static water, or flowing water
put the turbo to your work... now you can replace material in 1 click
Displacement control and occlusion map:
This system is very flexible, you can also save the material with the displacemen, it will be automatically saved (Combo edition)
Real UVs control in 3D View:
Finally, at great demand, you can control the rotation, scale and position of the UV mapping directly from the panel.

You can adjust the individual UV or multiple UV faces

This acts on the real uv mapping, it doesn't use tricks:
Easy creation and control of video materials, with cathode screen simulation and adjustment, screen lighting adjustment, controls in the panel to set the start point of the video and the end point, loop , and much more , all under control from the panel!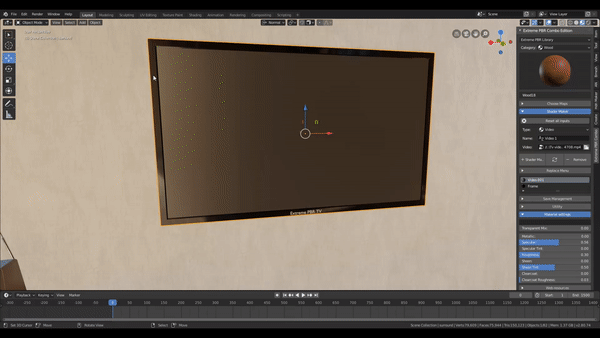 Now you can set transparencies on the materials:
We have created a new type of node that allows you to control transparencies directly from the panel, everything will be automatically set
...cheers!
New glass system for Eevee and Cycles:
Just a click to make glass
Less than 10 seconds to do this:
Instruction manual inside

(PDF), complete installation guide in the manual. A

ttention, read the manual carefully before installation!
If you have any questions contact us, we are very happy to answer!
Now you can create and save your Material with new shader maker :
You can use all your favorite textures, even those of famous sites such as textures.com or polygon.com and any other texture site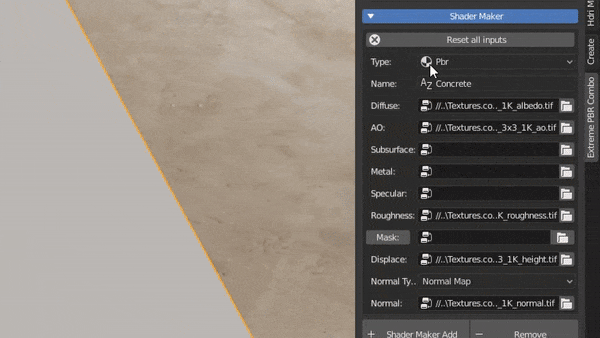 Create your materials and keep them forever available in any project, you can simply add them with a click, have a look at the new Shader Maker, put your textures here, and create your own material so as to have the controls of the material in the panel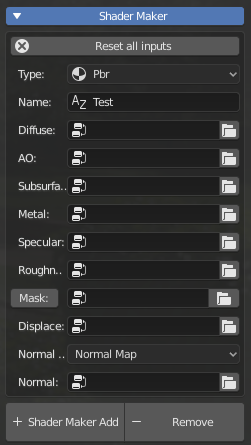 You can choose 7 type icons for save your preview material, create new categories and always have them at hand:
This category is for illustrative purposes only:
Note: Shaderball model has been made by Robin Marin (tuqueque) it is a CC-BY lincensed https://creativecommons.org/licenses/by.
Everything under control, always:
Finally you can work full screen if you wish
Here is the new aquatic material, as usual it needs nothing more than to add it and press Play. It is completely automated:
Extreme PBR Combo allows you to easily replace the materials of a model imported from Sketchup, to see how you should watch this video, and follow the instructions, as it takes a free addon named "Sketchup importer":
The creation of materials with displace is simple!
Extreme PBR Combo Edition work on blender 2.79 and 2.81 with 3 version of the same addon.
Apply some wood/glass/leather/fabric:
Blender 2.81 Eevee:
In these 2 examples we can see the automatic creation mask for transparent channel
Blender 2.79 Cycles:
This ↓↓ is just the material you see ↑↑
How much time did you save?
Work fine on blender 2.79 and 2.81
More than 1000 people around the world use Extreme PBR, we are happy to have achieved this small goal, we ourselves have more than 10 years of experience in 3D work and we are trying to solve the timing issues for professionals who always have a very fast delivery time restricted, every day we work on suggestions from our customers to bring improvements.
With this addon you will save a lot of time, we guarantee you 100%
Now you can use your textures, or download new materials from the most famous sites, such as textures.com or poliigon.com and many others, you can save the materials in your library, see the description!
A large collection of ready-to-use textures in 2k format:
We chose 2k because we know well that overcoming this format is risky for our customers, as higher formats would require exaggerated amounts of GPU ram and a considerable space on hard disk, but with the new combo version you will be able to insert your materials based on textures of larger dimensions through the new "Shader Maker" which allows you to insert even textures greater than 2k 4k 8k, you can create new materials based also on 16k (provided that your Computer has enough memory for this)
If you have any questions contact us, we are very happy to answer!
All materials are categorized and managed through a easy interface with the preview:
61 categories organized for 1000+ materials
Smart copy of materials and displacement:
Here are some tools you will like:
This works directly in the 3D view, has been much requested by our customers, and we have made it available a few updates ago
Shader maker Video:
Main differences between Extreme PBR Combo and Extreme PBR 2.0:

All materials inside, you can watch some videos to see the interface
Work on Cycle/Eevee render (Extreme PBR is not for Blender internal)
If you are interested in the Pro version you will find inside a 50% discount on "HDRi Maker Pro Version", if you want to take advantage of this offer, take a look at the addon:
Attention, the discount can be used just after the end of Black Friday
Special thanks to cc0textures.com ,https://texturehaven.com/ ,https://hdrihaven.com/ , https://cgbookcase.com/
We actively participate with monthly donations at :


Don't worry, the monkey is well trained!

If you have any questions contact us, we are very happy to answer!
If you have a problem and have read the instructions correctly, but cannot resolve, write us, if you have any suggestions, they are always welcome! Customer support is important
We continue to improve the product with updates, serving consumers and professionals. We follow the requests with great care and take into consideration the useful advice from the very kind customers.

We are not kidding, customers are always very kind, we believe that a happy customer is a treasure for us.

We believe that Extreme PBR is becoming a reference for many professional people.

So we are constantly committed to development.
Check once in a while if there are new updates!
If you plan to move the library folder (Extreme_PBR_LIB), first make sure that your projects made with Extreme PBR Combo are saved in this way:
The 3D world is art, some people believe that art should be free, I also think it would be nice, but we think ... hey, but who pays the bills? Uh oh ...

Of course, many people provide free add-ons, but we believe that most of them do not provide adequate product support (How to blame them, they don't earn anything and maybe they have little time)

We sell a product and guarantee assistance, (Have a look at the product evaluation if you don't believe it)

Therefore we believe that not only do we sell a product, but also a customer service.

Hey, but Blender is free!

Yes, Blender is free, but the blender foundation does not work for free, (thankfully)

They receive many donations monthly and we participate in these donations
If you have any questions contact us, we are very happy to answer!
Updates:
Unistall From Blender Preferences -> Addons , search Extreme PBR , uncheck the Checkbox, press Remove
Then install new version
Remember to choose the library path directory from the add-on's preferences
31/12/2019
3.2.2
Bugfix, the replace material button created an abnormal crash only on Machintosh, fixed
14/12/2019
3.2.11
Small update

Given the problems with Mac Catalina, we created a library installer, directly in Extreme PBR

Added button under Map Kit that searches for lost materials (Those of Extreme PBR)

Added invert Y button for normal map
24/10/2019
3.2
Warning! Use the new libraries only with version 3.2, and version 3.2 is no longer compatible with old libraries! Don't try to use it, it doesn't work, the new libraries have been modified Added over 100 materials Added over 100 materials Animated water added Version 2.79 fixed (the previous version 3.1.1 had problems with the normal node and other small bugs) Once solved the problem of inversion of maps on Shadermaker, now it is possible to invert the maps coming from Poliigon.com sites Once the library has been set, now the carts and materials no longer contain the special characters [2K] and have become "2K". 'quick update to adjust saved materials and rename them The new library is available for download and only works with Extreme PBR Combo 3.2
11/10/2019
3.1.1
Available for blender 2.81
04/10/2019
3.1.1
Fix Pack Status
16/09/2019
3.1
Bugfix in saving materials on some occasions.
Bugfix in the shadermaker on some occasions.
Bugfix in multiple Shadesmooth, now the menu has been simplified with an operator button since the operation took too long on large scenes.
News:

We added a button so if the object does not have a uv mapping, it automatically adds it, this was done especially for users 2.79, and for those models imported without mapping, it is also possible to use this function on all objects of the scene with just one click.

Added 200 materials, now the library is of 1000 materials.

Added "Invert" buttons for maps (Material settings menu) Metal Specular Roughness as we were told that the maps coming from Poliigon needed to be inverted.

Menu uvs editor is no longer in "Beta" as it has been highly appreciated and no problems have been raised by users. It is now also visible in object mode.

The installation requires the uninstallation of the previous version.If you want to install the new library, it is advisable to delete the old one
25/07/2019
version 3.0.1 (Combo edition)
Fixed the alphabetical order of the categories on all operating systems (Win, Mac, Linux)
13/07/2019

Extreme PBR Combo Edition is out for Blender 2.79 and 2.81

Save materials with customized previews
Create new categories
Create new PBR materials
Create new video materials
Create new emissive materials (with texture maps or without)
The transparency adjustment
Adjust the intensity of the reflection, roughness, metal maps
Adjust video materials
Cathode ray tube simulation
UVs mapping control in the panel
Save favorite sites for textures a custom library
Replace old materials
Some bug fix
+200 Materials
Completely new icons
Improved preview management
===========================================
28/05/2019

Extreme PBR 2.0 is out for Blender 2.79 and 2.8
New glass easy system
New folder management for update version easy (Now can use same folder for all version)
New interface
Some bugfix. (I thank the kind customers for the reports)
New panel
+100 materials Pbr
Ambient occlusion map
Control all from addon
Auto vertex group
Auto displacement
Auto remove vertex group
Auto remove displacement
Bake displacement
Control of smooth displacement
Subdivide system by bmesh
Unsubdivide system by bmesh
ShadeSmooth - AutoSmooth - Angle control for multiple object
Adjust colors, contrast, brightness
Assign material button
Fast selection faces by material
Copy material and displace at the same time on multiple objects