DynRemesh is a quad-based remesher, assisting in retopology for your dyntopo sculpts & 3dscans containing too many tris(triangles).
It includes support for QuadriFlow. QuadriFlow is a scalable algorithm for generating quadrilateral surface meshes based on the Instant Field-Aligned Meshes.

When working with any sculpt in general, you need clean topology in order for you to work with your assets.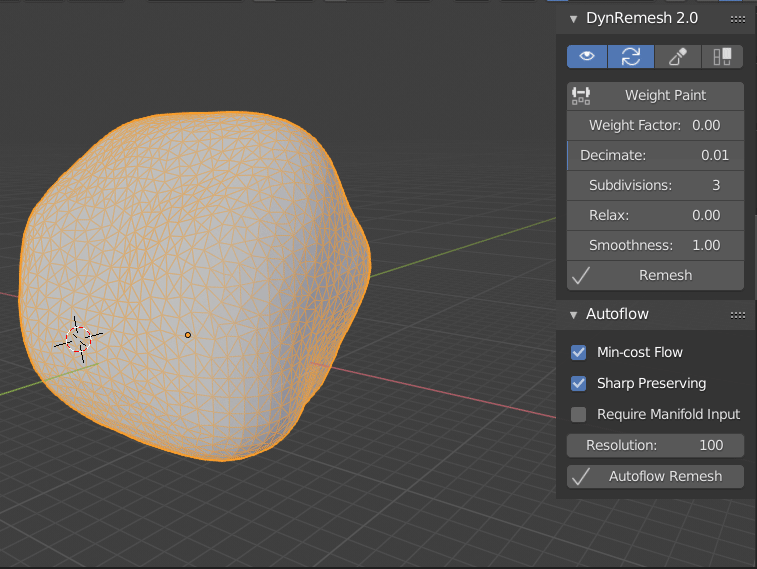 DynRemesh remeshing & AutoFlow retopology in 2.8

Features:
Single-click solution
Control over density( Decimation/Subdivision)
User-Friendly UI
Weight Paint Operator(Define density with weights)
Symmetry Support(Experimental)
Relax + Smooth options
Auto-Update(Update mesh when changing settings)
Improvements to the resulting remesh
Support for QuadriFlow(Linux & Windows)
Development Log:
WIP Auto-Retopology as you sculpt with Dynamic topology(2.5)

Symmetry Test(2.0)

Implementation of QuadriFlow(AutoFlow).
Will also include symmetry & additional options(2.0)

DynRemesh Installation: Install from zip in addon preferences. Enable, & it will be located in the tools tab. Please make sure you have the latest Blender version(2.79b)!!
DynRemesh 2.0 Documentation is currently being worked on. Please be patient!
AutoFlow installation: Unzip & move AutoFlow folder to add-ons folder.
Documentation for AutoFlow is included in the AutoFlow folder called README
For windows users: QuadriFlow path is located within the folder as well, make sure to set path in preferences(quadriflow.exe)
DynRemesh 2.0 Documentation:
Enable the eye icon to see your remesh & changes made to the settings.
The refresh icon will automatically update your settings. Note: (not recommended on very dense geometry)
Enable the sculpt icon to stay in sculpting mode & remesh when working in sculpt mode.
You can enable symmetry for your remesh. Simply click on the Symmetry Icon & choose from its options.

No FAQ's found for this product.
Purchase this item to leave a review!