Dream Textures uses Stable Diffusion to create images from a simple text prompt. Infinite variations can be created by running the same prompt again until you find a result you like.
If you'd like to support development feel free to purchase here, otherwise access the latest versions on GitHub for free.
To get help using the add-on and share your artwork, join the Dream Textures Discord server.

Image Generation
Enter some text and click Generate to get an image, it's that easy.

Seamless images can be created with a simple checkbox, which makes this add-on perfect for texture creation workflows.

Cycles Render Pass
Enable the render pass to run Stable Diffusion on each frame you render. This can transform a simple render into a beautiful scene, or apply a new style to an existing render.

AI Upscaling
Quickly increase the size of your generated images 2x or 4x to make them more suitable for your scene.
Image Editing
Use the various image editing options to:
Change the style of an image
Replace a masked section with something else

Extend an image beyond its original size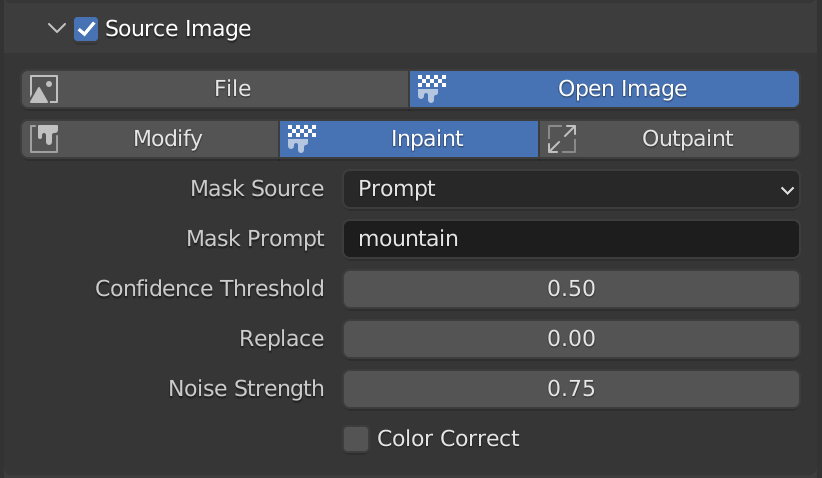 Advanced Configuration
You have full control over the parameters used in generation.
Minimum Requirements

Run locally or via DreamStudio integration.
To run locally, your hardware must be one of the following:
NVIDIA GPU with at least 4GB of VRAM
Apple Silicon Mac (M1/M2)
AMD GPUs are not currently supported.

Please note: NVIDIA 16 series cards (1650/1660) require full precision and have low VRAM, making them difficult to work with. Generally, they will not be able to run this add-on.
My Hardware is Incompatible
Don't worry! You can still use the add-on with the DreamStudio backend. Note that this will require a DreamStudio account, and your credits will be consumed with each generation.
For both versions of the add-on, only Windows and macOS builds are provided. To run on Linux please install from the source on GitHub.