3 Tools in 1 package. (New V1.7)
Cracks can deeply transform the aesthetics of any scene. Whether it's pavements or ancient relics, replicating these intricate details has always been daunting. With the Cracker add-on, turn the intricate process of crafting perfect cracks into a breeze. Why struggle when you can crack it with ease?
The Cracker add-on is a handy little tool for making cracks as easily as possible. Select an object, press Ctrl + w, adjust for the desired appearance, and apply. It's really that simple. You can now create cracks at the speed of thought!

Physics-Based Grounding: Automatically places cracked objects at ground level.
Instant Visual Feedback: See adjustments on your model in real-time.
Streamlined Workflow: Intuitive hotkeys speed up your process.
Stomper Tool (Ctrl + R): Rotate cracked objects to simulate the effect of impact.
Material Breaker (Alt + Y): Perfect for shattering windows.
Detail Control: Adjust crack detail on-the-fly with your mouse wheel.
Multiple Cracks: Hold 'Shift' when hitting 'Apply' to add another crack without separating the object.
Chip Off Function (Ctrl/Cmd): Want a piece chipped off? It's a click away.
Versatile Viewpoints: Operates from any angle - orthographic or perspective.
Customizable Cracks: Adjust rotation, noise scale, width, move, bend, and more.
Randomizer: Get unique cracks every time with random rotations and positions around an object's origin.
Cracked Surface Material: Choose a material for the cracked surface or leave it unassigned.
---
Physics-Based Grounding: To drop a cracked piece to the ground, press Ctrl+Shift+LMB. Remember, this feature leverages rigid body simulation, so always include a passive rigid body ground object in your scene.
P.S. If you can't locate the cracked piece post-operation, it likely went astray during the simulation. Simply press Ctrl+Z to undo, and then either adjust the crack angle or inspect for potential obstructions nearby.
---
S key for Noise adjustments:

R key for rotation:
G key to move:
T key for width: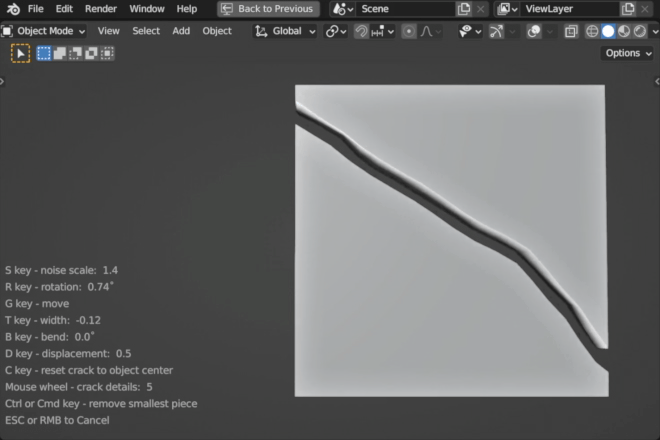 B key to bend:
D key for displacement amount:
Shift + C to move crack to the 3d cursor position:
Q key for Taper:
Mouse wheel for details:
Ctrl/Cmd to delete the smallest piece:
Multiple cracks with the SHIFT button:
Shift + LMB allows continuing placing cracks without splitting an object.
the Stomper tool v1.0 - Ctrl+R
Select one or more objects, place the 3d cursor (Shift+RMB) on to impact point, and hit Ctrl+R to activate the Stomper tool. LMB to Apply. RMB to Cancel.
the Stomper tool v1.0 works only on horizontal (XY coordinates) surfaces.
the Material Breaker tool v1.2 - Alt+Y
Press Alt+Y in Object mode and choose the Breaker tool. Adjust for desired look.
Note: For Glass Breaker, the object should be a flat surface with thickness (e.g., window glass). The front face must be a single polygon. Remember to Apply Scale before using.

the Material Breaker tool v1.2 works only with Blender v3.4.0 or higher.
Can't brake round objects like Vase, Cups etc. 
PS Pattern is not real or physically correct.
---
NOTE! The Cracker works with real geometry and can ruin your model (and it will), so please make a backup copy of an object or scene beforehand. (crucial for production environment)

---
Cracker v1.7:
New Glass Breaking Patterns

.

3D Cursor Positioning for Glass Breaking Pattern

Select & Apply Functionality

: Skip the face selection process! Now, you can directly activate the Glass Breaker.

Material Assignment for the Inside of Cracks




Adjust Crack Size with Ctrl + Mouse Wheel



Other minor but useful changes
Cracker v1.6:
Physically Based Grounding (ctrl+shift+LMB).



Cracker v1.5:
Glass Breaker tool.
Add-on preferences to change the hotkeys.
Cracker v1.3:

Stomper tool.
Shift+LMB to place Multiple Cracks without object separation.
Shift+C to move the Crack to the 3d cursor position.

Cracker v1.2.1:
Cracker v1.2:
Hold SHIFT for precise adjustments.
Q key for Taper.
Small tweaks in handling.
LINKS:

DISCORD Server for SUPPORT and hanging out with fellow users:
https://discord.gg/RYePQpsNEt

mail: [email protected]
twitter: https://twitter.com/vfxguide
---
the Cracker works perfectly with the OCD add-on:
Also check out this great Damage Bundle deal: