Introducing Colorspacer, the intuitive Blender addon that revolutionizes the tedious task of assigning colorspace to image textures. With just one click, you can effortlessly assign the perfect colorspace to all your textures based on customizable tags.

Colorspacer supports ACES, Agx, Blender native colorspace and Possibly any custom configuration
Changelog


v 2.0 : This version brings the long awaited Node based engine to the addon
Added Node based engine to colorspacer

This method ignores the names of the images in textures and assigns colorspace based on the input socket that the texture is connected to

Currently only three nodes are supported: 
Principled BSDF, Normal map, Bump

Sockets : 


Principled BSDF: Base color, Emission (Color) | Metallic, Roughness, Specular (Non Color)
Normal Map: Color (Non Color)
Bump; Height (Non Color)




v 1.1.0 : This version brings Custom colorspace support to the addon
Added custom color space menu to the list, expected to support any further misc. use cases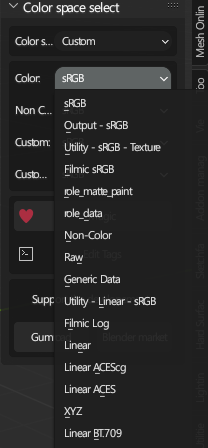 v 1.0.0 : This version brings Agx support to the addon
Colorspacer now supports Agx
v 0.1.2 : This version brings small quality of life changes to the addon

An option to change the addon shortcut has been added to the Preferences menu

Filmic Log has been added in the Color section of 'Default Blender' menu

The addon will now display "Color spaces fixed" on execution in the info panel 
--- 
So, why Colorspacer?
Assigning colorspace to each individual texture is tedious, You have to browse every material and click on every texture node and repeat this for every material
This is specially bothersome if you're using a different colorspace with blender eg: ACES or TCAM. Another issue is importing blender files with textures and finding colorspaces non-assigned or just switching the projects between normal and blender with different colorspace

It just eats up your time and limits your options, Making people quit before realizing the full potential of ACES or AgX  or TCAM
Faced with the same situation, I decided to make Colorspacer


Is it very complicated?
The best part? Using Colorspacer is a breeze. Simply setyour tags in the Blender preferences, choose your desired colorspace in theN-Panel menu, and click the magic button to see your textures set perfectly.
step by step:
First, you have to set the tags in Blender preferences, Use lowercase words separated by space for tags
In your N-Panel menu, choose the colorspace that you are using (Currently Blender native and ACES)
Set the image colorspace for all the four tag options that you want the images to be
Click the Magic button and Voila!
You can also press Ctrl+Shift+Y to execute the addon
Editing Tags
One click setting color spaces




How does it work and Future plans?
In the current version(1.0), Colorspacer works based on image names

But that's not all. Future versions of Colorspacer are planned to include support for even more colorspaces(Supports all major colorspaces available for blender), the ability to assign colorspace to only selected objects, and the option to assign colorspace based on the texture node it is connected to and more quality of life changes.
So why wait? Try Colorspacer today and experience the magic of effortless colorspace assignment. And if you're unable to support the addon financially at this time, you can download it for free from Github. If you find it useful, consider supporting the development of this amazing addon in the future 😄