Fredegund - The Blenrig Skeleton
---
By buying this Product you are supporting the development of the new BlenRig 6 Rigging System!! (You can join our Discord Here)
Meet Fredegund, the BlenRig Skeleton!
(Extra models from Polyhaven)
Fredegund is an anatomically correct Skeleton. It was modeled from scratch in full detail, reaching a polycount of 120k quads. The model is textured in high quality and sculpted in high resolution with a polycount of more than 124 Million quads. Everything was created inside Blender.
Fredegund's bones were modeled using BodyParts3D as reference. Therefore it can be used as an accurate anatomical reference for scientific purposes.
The proportions of the character have been adjusted to fit the "Ideal Human Male Proportions" by Andrew Loomis, so you can also use this character as a Drawing Reference!
Fredegund is rigged with the new BlenRig 6 system. BlenRig is the biped rigging system created by Juan Pablo Bouza, which was used in many of the Blender Studio Open Movie Projects.
Animation
The skeleton is rigged with realistic mechanics, every bone behaves as a rigid object unless you use the Toon Controllers!
The rig also features automated scapula and patella movement, a complex ribs setup and a fully fledged face thanks to the facial capabilities of BlenRig.


Mixamo Ready!
Fredegund features an automatic integration with Mixamo animations with the use of the Mixamo Addon! (See Docs for more Info)



Game Ready!
Fredegund has been rigged with techniques compatible with Game Engines! (See Docs for more Info)


Customize your Character!
You can use Fredegund as a empty pile of bones, a lovely skeleton or even a burning punk from hell!
The Berserker Effect is a totally customizable realtime effect that will let you turn Fredegund into a burning skeleton, a dirty zombie or any other evil abomination you might think of.  There are many controls at your disposal that will let you change the properties of the surface in a flexible way.
The Iris is also totally customizable and the Hair Fire effect can be automatically animated with physics.
Iris object is based upon the iris sculpt by polygio. Fire effect is based on FFuthoni work.
Fredegund features BlenRig Dynamic Shaping capabilities, making it possible to change the size and proportions of the character on the fly.
Choose your Quality!
Feredegund features many display and render options. You can choose between Low Resolution Proxy mode, Game Engine mode, Blender Realtime mode, Multires & Normal Maps mode, Displacement & Normal Maps and Micro Displacement mode.

The character uses six texture sets to deliver the highest possible detail. You can choose from a variety of resolutions that go from 1K up to 8K.
Why Different Versions of the Product?
The main goal of Fredegund is to get your support to boost the development of BlenRig, which is a Free and Open Source rigging Addon for Blender. Therefore this product comes in different flavors so that people can choose the amount they want to contribute with.
The main difference between the two versions is that the Textures & Sculpt Source Files version comes with the original Texture Paint and Sculpt files used to create the character (See Documentation Video for more info).

The Texture Paint file lets you edit Fredegund's PBR texture sets with the amazing Layer Painter Addon (Included in the download). There you will be able to re-mix the materials as you please and re-export them. Layer Painter allows you to create materials by simply mixing PBR Textures in different layers. It also has a very flexible layer masking system that makes things even easier. If you are familiar with the workflow of commercial texture painting packages out there, you will find this addon really useful.
On the other hand, the Sculpt file includes the 124 Million polys sculpt (Which already comes with the basic version), but it also allows you to see and edit all the different sculpting stages the model went through.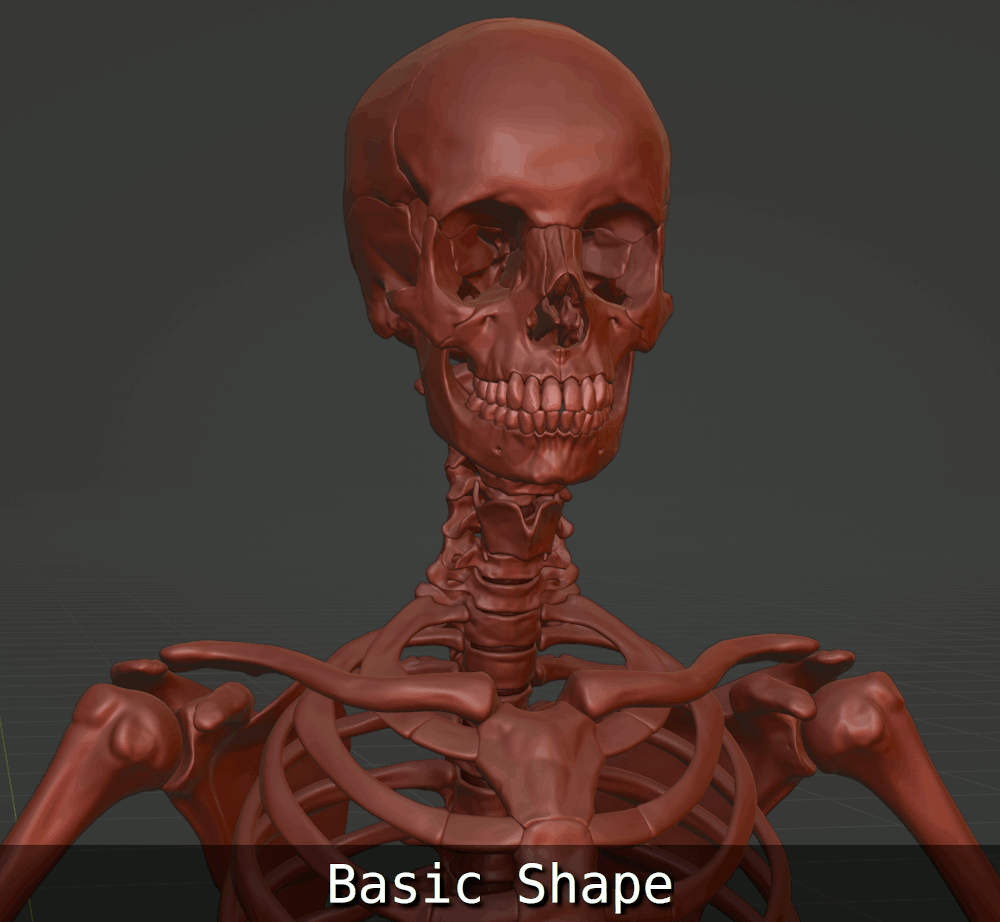 Final Note

Do not hesitate to join the BlenRig Discord if you want to start using BlenRig 6, or if you want to report any kind of Bug related to Fredegund!
Also, don't miss the new BlenRig Song! Check it out, I hope you like it! Rock on and Happy Blending!